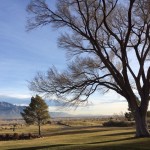 Winter Solstice is point on the calendar when the sun stands still. That is the literal meaning of the word solstice. In my busy life, I savor those words, "the sun stands still," because time always seems like it's rushing out ahead of me. Deadlines rule me.
Winter Solstice is the darkest night and the shortest day, but I think of it as the most joyous day, because it is the day the light returns. Each day after this, in the northern hemisphere, there will be an additional minute of light.
But let's be reminded, these dark days have a vital purpose in our lives. They seem unnatural and unwanted. We resist the idea — very much — that the setting sun splashes its watermelon light on the Sandias at 4:55 p.m., and the day shuts down with the blackest of black curtains, a pre-emptive strike to our busy-ness.
This is the season to bring the light in, with candles and lights on the tree and fires in the fireplace and gatherings with friends. It's time to go within, to gather the soulfire that comes from self-knowledge — from taking time to hear the inner voice and map our desires for the next season.
You just watch: When your 2014 unfolds in a glorious way, and you look back, you will see clearly that the seeds of it came from the soulfire of these dark days that made you look harder for the light within.
This ritual is very meaningful to me, as many of you may have guessed, those of you who follow my Ray of Light photo posts. The reason I look for the light each day is because of these days when we are reminded that the light is so scarce and so fleeting.
When I started capturing the changing light — first in the 2011 series 330 Days of Sunshine, and now, this year, since Autumnal Equinox, in the Ray of Light series (on Facebook) — my aim was to ward off the darkness. A simple case of SAD, seasonal affective disorder.
What I found instead was that the light of winter was the most beautiful, because you had to look harder to find it.
This ritual is also very meaningful to me because Winter Solstice is my birthday. Just call me: A student of illumination. I was born that way.