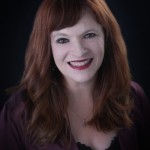 Albuquerque writer Carolyn Flynn reads recently published and prize-winning fiction and pays tribute to other authors, including mentor Rick Bass. Flynn's literary short fiction "Pretend" won the 2014 Rick Bass/Montana Prize for Fiction and was published in The Whitefish Review. "Resurrection," an excerpt from Flynn's memoir Straight to Heaven, was published in Fourth Genre in January 2015 after becoming a finalist for the 2014 Steinberg Essay Prize. A previous version of that piece won second place in the 2013 Pinch Journal creative nonfiction contest, judged by Abigail Thomas. Recently, her novel, Searching for Persephone, was announced as a semi-finalist for the 2015 Horatio Nelson Fiction Prize.
Flynn's essay, "Pound of Flesh," was published in 2011 in The Tampa Review and receiving a glowing review in The Review Review for its inventive take on the spiritual cost of rampant capitalism.
In addition to winning the Renwick-Sumerwell and SouthWest Writers fiction prizes, Flynn won the Albuquerque the Magazine 2010 short fiction prize for Blood. Her literary short stories have been published in Ellipsis and The Crescent Review and featured in the German anthologyWilde Frauen, which included an introduction by Clarissa Pinkola Estes and short stories by Margaret Atwood, Isabel Allende, Pam Houston and Erica Jong. She has been short-listed for the Tom Howard Prose Prize in creative nonfiction and the Danahy Prize in fiction.
Carolyn Flynn, seven-time published author and winner of the 2014 Rick Bass/Montana Prize for Fiction, is co-founder of The Writing Space with Terry Price. She holds an MFA in Writing from Spalding University, one of the top 10 brief-residency programs in the world.
For 16 years, she was editor of Sage magazine, the Albuquerque Journal's magazine for today's woman.
Carolyn is a practitioner of mindfulness and creative visualization, leading writing and creativity workshops through The Writing Space (the writingspace.net), leading virtual and real-world retreats, webinars and creativity coaching sessions that give people the time, space and love to write.
Her seven nonfiction titles, published by Penguin Putnam/Alpha Books, include topics such as mindfulness and creative visualization. For two years, she hosted with Terry Price "The Writing Life: A Weekly Jam Session for Writers," a podcast downloadable on iTunes or her website at carolynflynn.com.
Event date:
Wednesday, June 3, 2015 – 7:00pm
Event address:
Bookworks
4022 Rio Grande Blvd NW
Albuquerque, NM 87107