In this guest blog post, we hear from Jonatha Kottler, co-facilitator of the 2020 Ireland Writing Retreat along the Wild Atlantic Way, to be held June 21-25, 2020.
I had wanted to go on a writing retreat for a long time. It wasn't because I knew what to expect—maybe something like summer camp plus book club—I just knew that I wanted to claim the title of writer for myself and I didn't exactly know how.
For me, writing was a mystical, magical dream, which I wasn't sure how to make reality. It was a thing that other people did. So, I downloaded links to retreats and sent away for glossy brochures, dreaming about going to exciting places. And then eventually I closed those links because something more important came up, and I recycled the brochures when the deadlines had passed. 
The frenemy of laundry
One of the enemies to my ability to write and take myself seriously is laundry. I call laundry "my best friend"—because it's always there for me. If, somehow, I blocked out time for myself to write in the middle of all of my other responsibilities, I often think, "I'll just sort a load, drop it in the washer, and then it will be getting done while I write. Look at me, queen of multitasking!" But somehow when I do that, before I ever really get down to writing, it's time to switch the load, and then grab it from the dryer and fold it, and then put one more load in. Laundry becomes the metaphor for me putting myself and my writing last.
A retreat breaks you out of your real life. You pack up a bag of clothes that won't need to be washed until you get home. You pack books, pens, ink, a couple of those journals you keep buying, your laptop. You travel by plane or car or train toward your own dream and arrive at a space that is designed to support the part of yourself that never seems to win spot number one. You're not worrying about what anyone is going to eat for dinner, a dentist appointment or any other part of your very busy life. You are there to write.
And before the weight of this hits you and freezes you looking at a blank page, there is someone there whose whole function is to help you get your words on the page and make them as beautiful as possible. They fill up your well with ideas, give you support, help you to build a community, help you start and figure out how to keep going.
Brave enough: My first retreat
My first writing retreat was in the Highlands of Scotland. I saw new sights, met new people (some brilliant writers I'm still friends with), and it let me finally feel brave enough to call myself a writer.
If you've been thinking about it for a while, now is a great time to join my co-facilitator Carolyn Flynn for the 2020 Ireland Writing Retreat along the Wild Atlantic Way. Tell everyone you love to contribute to your retreat fund. Carve out the time, and take a risk on yourself. My life has changed so much in the time since my first retreat. I'm part of a world now that I thought was reserved for other people, with a little shelf of books that have my words in them, my name on them. A retreat gave me permission to take myself seriously, and as soon as I did, other people started to, too.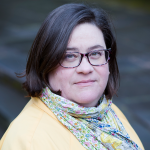 Jonatha Kottler writes fiction, non-fiction, and poetry. Her work has been featured in the essay collection Nasty Women, in The Guardian newspaper, and New York Magazine's The Cut, among other places. See some of her work here.