What's the word for "water taxi" in Italian? The day my friend Maureen and I arrived in Venice by train, this is what puzzled us. We needed to find a water taxi so we go to our pensione. 
Along the way I launched a publishing career.
At this point in our journey, Maureen and I already had acclimated to Italy after several days in Rome and Florence. But navigating the watery wonders of Venice presented a new challenge. This ancient floating city was a city to get lost in.
As we stood at the dock, perusing our guide book, Maureen noticed that a young blonde woman standing near us was perusing the same guide book—only in German! That was enough of an opening to greet her, and it turned out we were headed the same direction.
A 'piccola' writer orders monkfish
Her name was Petra, and she spoke fluent English and Italian in addition to German. She worked for a publishing house in Munich, and she took holidays early and often to Venice, to escape the gray skies of Munich. She had been coming to Venice for years, so much so that she had a thriving mix of German and Italian friends, who invited us to join them for dinner.
Speaking all the languages at the table, Petra was our navigator. When I ordered the fish entree I deemed to be the most authentic and exotic Italian seafood dish on the menu—let's just say it was something like monkfish with prosciutto and artichokes—the server said about me to Petra, "Lei e piccola." I knew enough Italian to know she was saying petite, but I thought the server was asking me if I wanted a small serving. Petra turned to me and said, "She is noticing that you are a petite woman."
All three of us were writers—Maureen, Petra and me—and I had more than a few literary short stories in the drawer, many of them crafted under the influence of esteemed short story writer Ron Carlson, then-director of the Arizona State University creative writing program, and Valerie Miner, now at Stanford but then at ASU.
An aching writer yearns to be born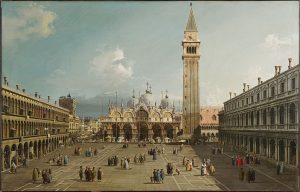 The three of us also were young woman contemplating the next step of life: bearing children. While we did the usual tourist things, like hear the bells at Piazza San Marco, float beneath the Bridge of Sighs and tour the Guggenheim, we also wanted to get lost in the city's back alleys, which filled with flower wagons and the scent of freshly baked croissants in the mornings. We walked all through the city, considering whether the men we were currently dating were the men we wanted to marry. Would they be good husbands? And would they be good fathers?
We saw ourselves in an unfolding story, the story of three young women in Venice on the cusp of motherhood. This week, my college-age daughter is in Venice. She set ashore in Venice Tuesday night, and she's been sending SnapChat video of the pigeons at Piazza San Marco. So, you know how that question turned out. I have a daughter, and she has a twin brother, and they are living happy lives.
Had I been content to be a young woman who had yet to know her potential, I wouldn't have felt the ache, not the way I did that week in Venice. As we walked and talked, the air turned cool. Somehow, we had slipped in fall. In this exotic city, with sights so strange to my eyes, I hadn't seen the signals. I had not seen this coming.
In my womb, I carried the twinge of being childless, the dark wonder of what my life could be as the mother of children. And in my heart, I carried the sudden, sharp pain, now familiar, of not yet knowing my potential as a literary writer.
In the company of daring women
Late at night, we talked stories. I told Petra about my story "Detox," which I had read to a small audience in Corrales, New Mexico, on a literary night. A woman had come up to me afterward, astonished at how my story peered into her heart.
Petra was preparing an anthology at the time, a collection of writings by daring women to be titled, "Wilde Frauen," or "Wild Women." Clarissa Pinkola Estes' "Women Who Run With the Wolves" had been a sensation, and the publisher wanted to assemble a collection of writing that captured that brave, wild spirit. ("Thirteen Reasons Why You Should Read 'Women Who Run With the Wolves," a Medium post from 2017, tells you why this book is still relevant.) Petra told me she would like to see my story. Established writers already had been lined up for the anthology, and she wanted fresh, new voices.
That anthology was published in 1996 by Wilhelm Heyne Verlag. Estes wrote a foreword, "Ruckkehr zum Selbst." It means "Return to Self." Featured authors included Isabel Allende, Pam Houston, Alice Walker, Joyce Carol Oates and Margaret Atwood. And Carolyn Flynn. My name was listed on the back cover. My
story appeared after Margaret Atwood's "Haarball."
The title of my story "Detox" was the same in both languages. Apparently we Americans invented the detox, and other languages have just decided to use our word for it.
Preparation meets opportunity
You might think this is random. And it's certainly not useful advice to tell an emerging author that in order to get published, you should travel to Venice and wait on the dock until you meet a publisher.
This is a story about how luck is when preparation meets opportunity. When I crafted that stories with my mentors and when I had the courage to read it to a gathering of writers, I was preparing. I was testing the waters to see if my story resonated with others. I knew then that it did. So when I met Petra, I was prepared. I got a major assist from my friend Maureen, who touted my writing to Petra and who was not as shy as me—she's the one who opened the conversation with Petra.
As a writer, you must dare to discover what happens when story meets page. It's magic. Then cultivate community. Find other writers. There you can test out what resonates with readers. And champion each other.
Then you'll find your luck.
Oh, and that Italian word for water taxi? Vaporetto.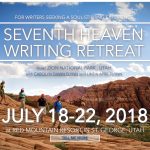 If you're yearning for supportive and inspired community of writers, come join us at the Seventh Heaven Writing Retreat near Zion National Park, Utah, on July 18-22, 2018. Come, shed the ache of your untapped potential and meet the magic on the page.